RockSoc Gigs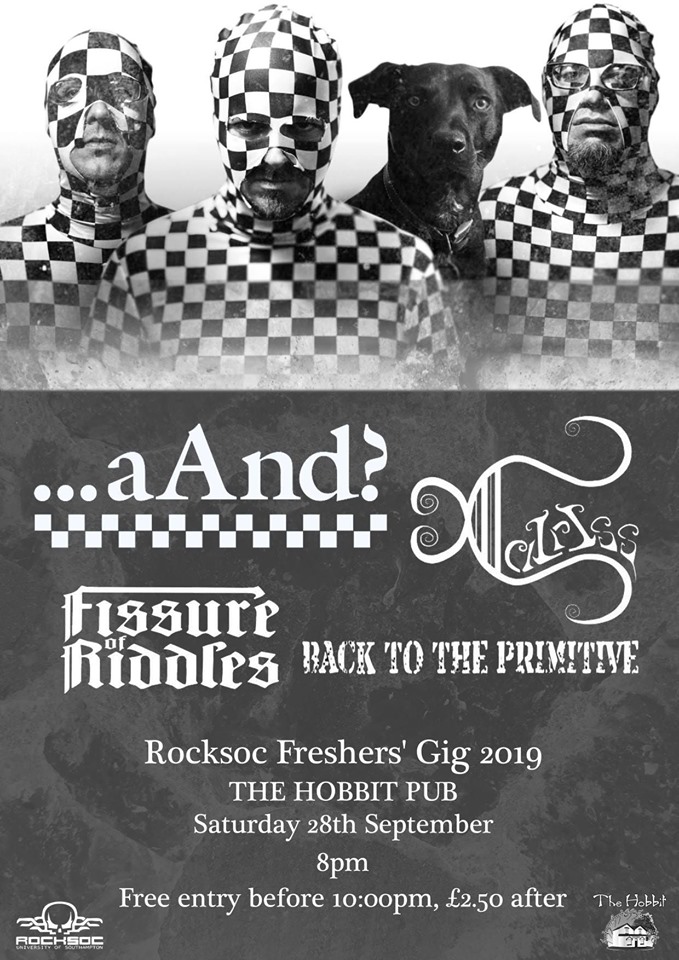 Fresher's Gig
Welcome Freshers! If you're of the rock and/or metal persuasion, your University of Southampton Rock and Metal society have organised a night of heavy riffs, sad boy vibes and covers. With 4 local bands, free before 10 pm, it's bound to be a night of drunken mayhem. Free before 10pm, £2.50 after. Non-university members also welcome.
aAnd? (Tech metal, groovegrind, grindcore...It's just fucking metal) - A unique spin on tech metal and grindcore. aAnd? got together and started writing music. Mainly for tax reasons and girls but that worked so well it's just the tax reasons and maybe the free beer.
Cairiss (Post-black metal) - 5-piece band from Southampton/Reading including past members of Rocksoc. Their debut EP "Fall" came out in 2016 and another is on its way.
Fissure of Riddles (Progressive Sludge metal) - F.o.R was formed in the winter in which the mayans predicted the world as we know it would perish, they were wrong, we were born. They set out to combine elements of progressive metal with southern/sludge providing an atmospheric soundscape with a firm foundation of groove layered throughout.
Back to the Primitive (Metal covers band) - They crawled out of the primordial ooze to play you metal covers from a primeval period i.e. Before now. Includes past and present Rocksoc members.
Hope to see you all there!
Event